Click HERE to return to the Home Page. Thanks!
IF YOU ARE READING THIS MESSAGE, THEN THIS IS STILL AVAILABLE! I will delete this ad when it is sold.
FOR SALE:
Power Tilting / Sliding Sled Deck for Snowmobiles or ATV's
PRICE: $1800
INFORMATION:
This is a super handy deck! It is super simple to load and unload your Snowmobiles or ATV's with this. To unload, all you have to do is: Park, hook it up to your truck's battery, remove the safety pins, hit a button on the remote and the deck will lower your first machine to the ground. Flip a switch and you can then lower the second machine to the ground. Loading is even easier. Just attach the deck's winch to the machine or to the sliding portion of the deck. Push a button and it pulls the deck and machine right up. Insert the pin and done! I am only selling this because I installed a flatbed on my truck and can't use this anymore.

- New remote controlled winches
- Connects to truck battery with jumper cable style clamps
- Made out of steel (metal)
- The deck is 8 feet long
- The distance from the front of the legs to the back of the legs is 95 inches.
- This will not work in a shortbox truck unless you put the back legs on the tailgate (not recommended!).
- The deck's overall width is 93 inches
- The individual decks are 46 inches wide
- The legs are 55 inches wide
- Similar style decks are selling for over $5000!
If you have any questions or are interested in buying this, please CALL or TEXT me at: 6one2*3one0*3one28 after 10am and before 8pm (Central) or click HERE to send me an email.
This is located in HUTCHINSON, MINNESOTA. I can haul it to SHERIDAN, WYOMING or just about anywhere else between Wisconsin and Washington. Please call to schedule an appointment to view it.
To see LARGER pictures, click on the ones below: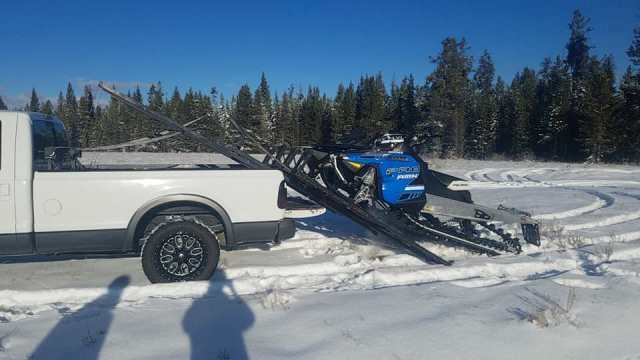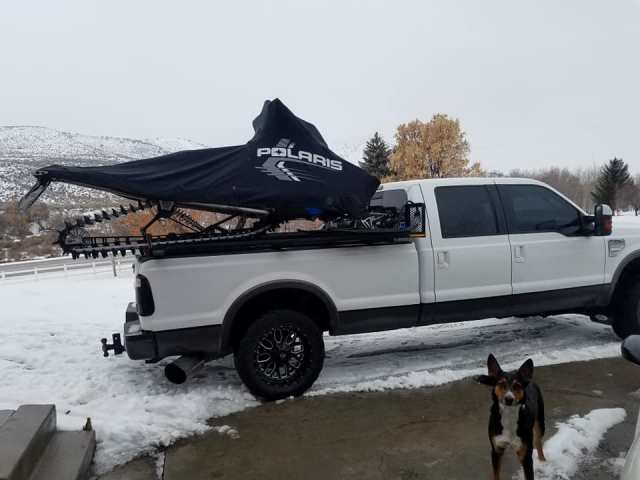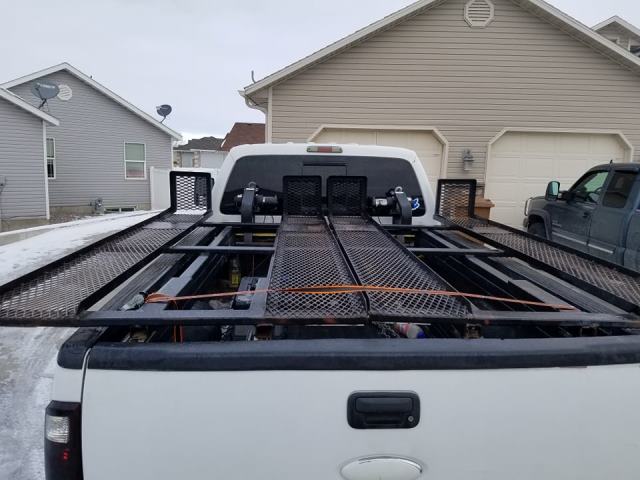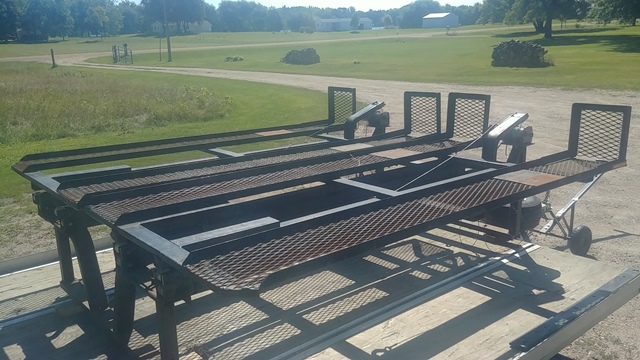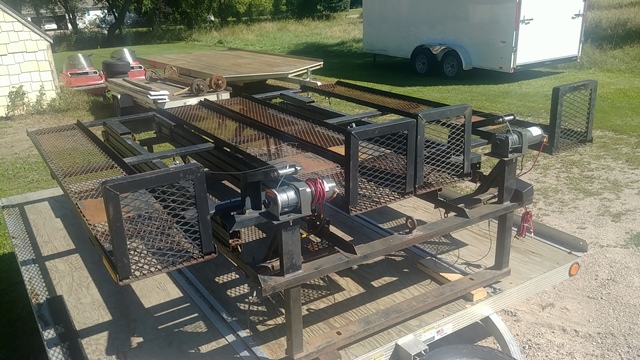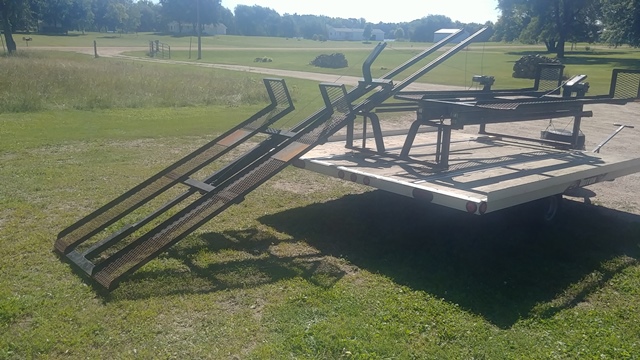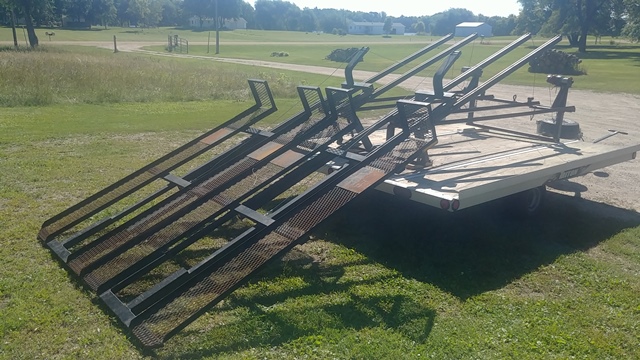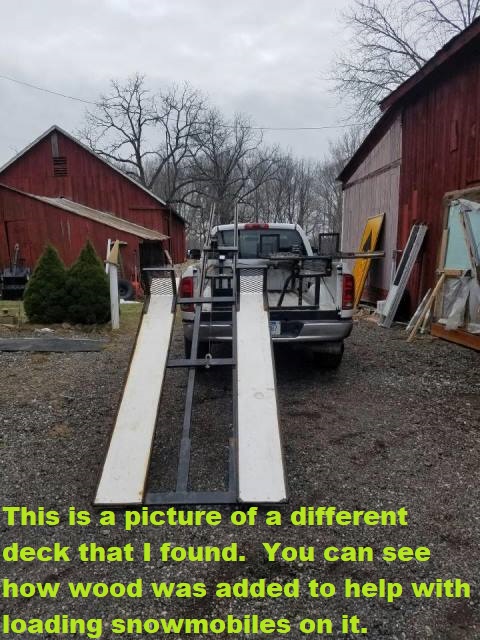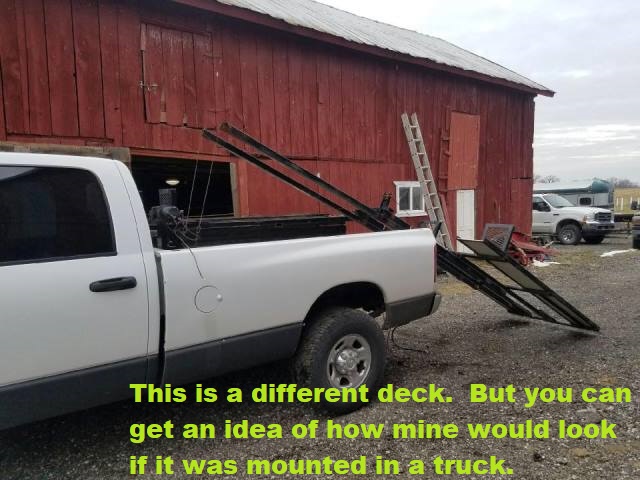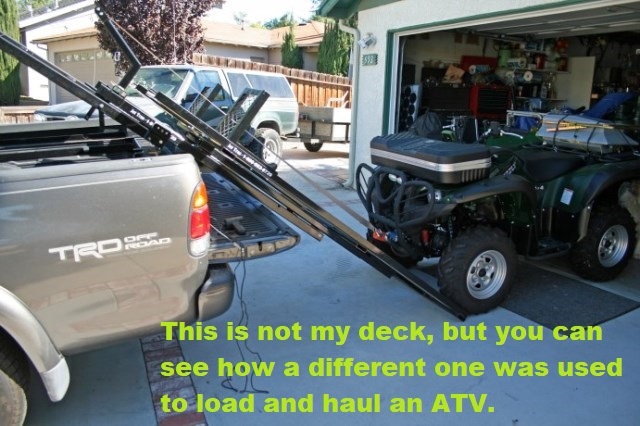 Thanks for checking out my ad! - HAVE A NICE DAY!!